Oshawa, ON- MapArt Publishing is proud to announce that the "Colourful Travels" line of publications has been added to their growing assortment of products.
Part colouring book, part travel journal, Colourful Travels publications allow the user to create, journal and scrapbook their travel experience resulting in a unique memory that will last a lifetime.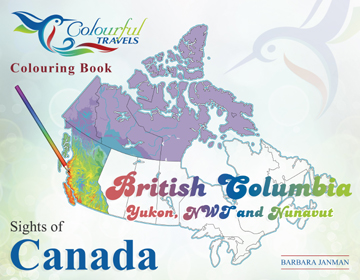 Each "Sights of Canada" book is the creation of Alberta artist Barbara Janman, whose mission it was to create more than just colouring books; she hopes to provide the encouragement to visit Canada and to enjoy our beautiful, bountiful, resourceful country.
"We're very enthusiastic about the Colourful Travels Sights of Canada series" exclaims Brian Heiler, MapArt's National Sales Manager who adds "there is high demand for well-made products that enhance the Canadian travel experience".
Each Provincially themed book is proudly printed in Canada and will be soon available at retailers across the country.
About Colourful Travels: Colourful Travels is an Alberta based company, formed by husband and wife team Barbara and Bill Janman. The company began when Barbara, not satisfied with what was available in stores, decided to create an adult colouring book. They are on their fifth book. www.sightsofcanada.com
About MapArt: MapArt is Canada's leading distribution house of Maps, driving publications, Tree-Free greeting cards, souvenirs and children's impulse items. Headquartered in Oshawa, ON, with sales agents from coast to coast MapArt is the official distributor of Tree-Free Greetings, Ministry of Transportation handbooks and a growing assortment of Children's impulse items. www.mapart.com