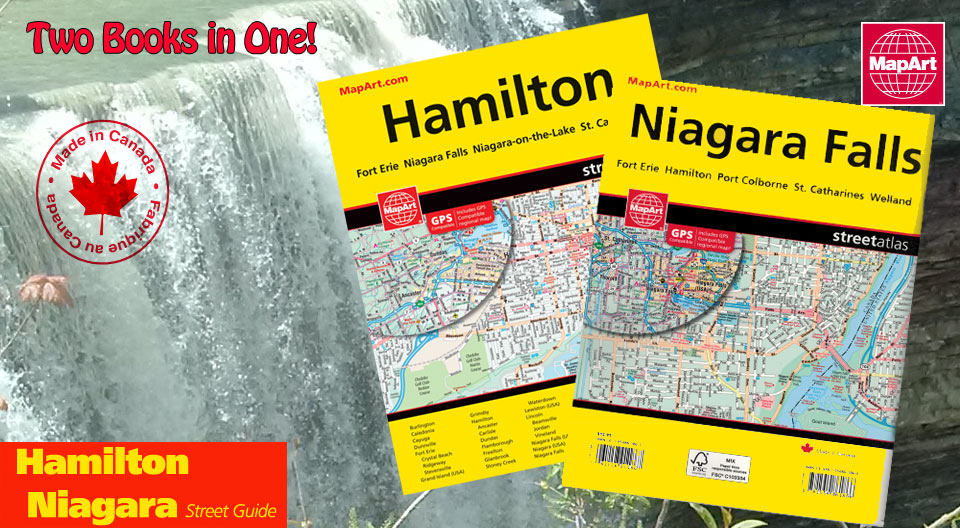 The 2018 MapArt Hamilton Niagara Street Atlas and Map Guide is back completely revised at the unbeatable price of $12.95.
Beautifully updated street/road Atlas that includes the Hamilton and Niagara region (including Buffalo USA) in both stunning street level detail and a fully functioning 1:250,000 back road atlas that is GPS compatible!
Fun travel features include a Wineries listing, Points of interest, camp grounds, boat launches and more!
Communities included:
Burlington, Buffalo (USA), Caledonia, Cayuga, Dunnville, Fort Erie, Crystal Beach, Ridgeway, Stevensville, Grand Island (USA), Grimsby, Hamilton, Ancaster, Carlisle, Dundas, Flamborough, Freelton, Glanbrook, Stoney Creek, Waterdown, Lewsiton, Lincoln, Beamsville, Jordan, Vineland, Niagara Falls (USA) Chippawa, Niagara-on-the-lake, Queenston, St.Davids, Virgil, North Tonawanda (USA), Pelham, Fonthill, Port Coloborne, Porter (USA), Smithville, St. Catherines, Thorold, Tonawanda (USA), Wainfleet, Welland, Youngstown (USA)
126 pages
Printed with FSC paper (C103304)
Proudly designed and manufactured in Canada